Local Full Service Junk Removal
Honest, Professional & Affordable
Do you have a pile of junk and just can't seem to get the time to get rid of it? Does it grow in size year after year and now it's out of control and you don't know where to start? Give us a call and we'll be happy to get rid of your junk quickly and easily without breaking the bank. Our team of professional and friendly junk removal experts take care of all the heavy lifting. Just point and your junk will disappear!
At Two Guys Disposal we strongly believe in giving back to the communities we operate in. Aside from supporting organizations like the Friends In Need Food Bank in Maple Ridge and the Starfish Backpack program, we work with local charities such as GoodWill, Habitat For Humanity, Red Cross and many others. Items we can't donate always get recycled through authorized recycling centres.
We do all the heavy lifting
No obligation free Estimates
We'll take pretty much anything
We donate to local charities
We recycle
Fully licensed and insured
WCB compliant
Junk Removal Starting At
$99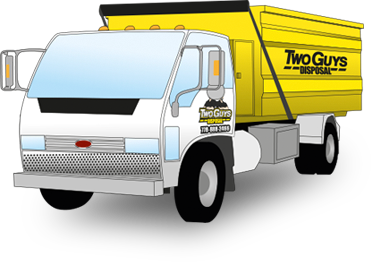 See Our Junk Removal Rates
---
Professional Junk Removal
Wondering when your junk removal truck is going to finally show up? Worried your junk is going to get illegally dumped on the side of the road? Curious why you are being billed such a large amount just for a sofa? When you hire Two Guys Disposal for your junk removal, you don't need to worry about anything. We make it easy to get rid of your junk!
Our professional and friendly junk removal teams are in constant contact with you keeping you up to date on when they will arrive. With our network of authorized recycling centres, donation centres and transfer stations, it's easy for us to disposal or recycle your junk properly. We'll provide you a free estimate before we take your junk so there are never any surprises.
---
Convenient, Reliable Junk Removal
How does our junk removal work?:
1. Contact us either through text, email or phone and detail to us what you want picked up and we'll provide you a rough estimate of what it'll cost to remove your junk.
2. Make an appointment. We book our appointments with a 2 hour window to ensure we are able manage our trucks and and keep our customers expectations high.
2. Our professional, friendly team will call you 30 minutes before they arrive to make sure you are still ok with the time that you booked. Once they arrive, they'll provide you a free, no obligation quote to remove your junk.
3. Once there, our team will be happy to remove any junk that you point out to them. They'll start loading up the truck, doing all the heavy lifting and get ready to go.
4. After you sign off on the work done and are happy with our service, and only then, our junk removal team will head out and start the process of recycling and donating your junk items.